6 Things to do in Pulau Pangkor
Jhuang Hung Chong, 3 years ago
0
3 min

read
1478
Pulau Pangkor is an island situated in Manjung District of Perak, renowned of its beautiful beach and ocean view, yet not heavily developed with tall buildings and man-made infrastructure.
Access
Bus – Taking bus to Lumut Bus Terminal, and the Lumut jetty is 5 minutes on foot
Self Drive – Navigate Terminal Jeti Lumut, park at the Jetty parking space
Jetty to Island – Take a ferry to Pangkor Island, journey time is 30 minutes.
Within the Island – car, motorcycle and bicycle rental, or Island Taxi (pink color)
Things to do in Pangkor Island
If you are interested to know the things you can do here in Pangkor Island, read on!
1. Round Island Tour
Pangkor Island consists of 9 small islands. Pangkor Island itself has a area of only 18 km2, making a trip on the entire island will take about only half day's time! On the west side, you will enjoy a very long sea view, more mountain forest area over its north side, a fisherman village on the island's east side, and on its south side there are some shops and recreational areas. It's recommended to just take the pink taxi as it's convenient and the rate is really cheap.

2. Island hoping + Snorkeling
There are quite a number of residents of Pangkor who are offering Island-hoping and snorkeling trips, when you see life jackets and banners of snorkeling, you can inquire on the rates and usually they are pretty cheap too. The snorkeling is usually done at one of the nearby small islands. There will be guides on how to wear the snorkeling equipment, while for Island hoping, the guide will bring you to spots with rocks that resembles objects like a lion, elephant, human face etc. Riding on the speed boat is an exciting experience, with cool breezes and natural views make the tour more like a trip.
3. Walk along the beach
Nothing can be more relaxing than walking on the beach. Stepping on the soft sand, or swimming at the seashore, are definitely some must-do relaxing activities if you are travelling to Pangkor Island. Along the beach, you will find some hammocks that you can enjoy for free.
4. Blue Tear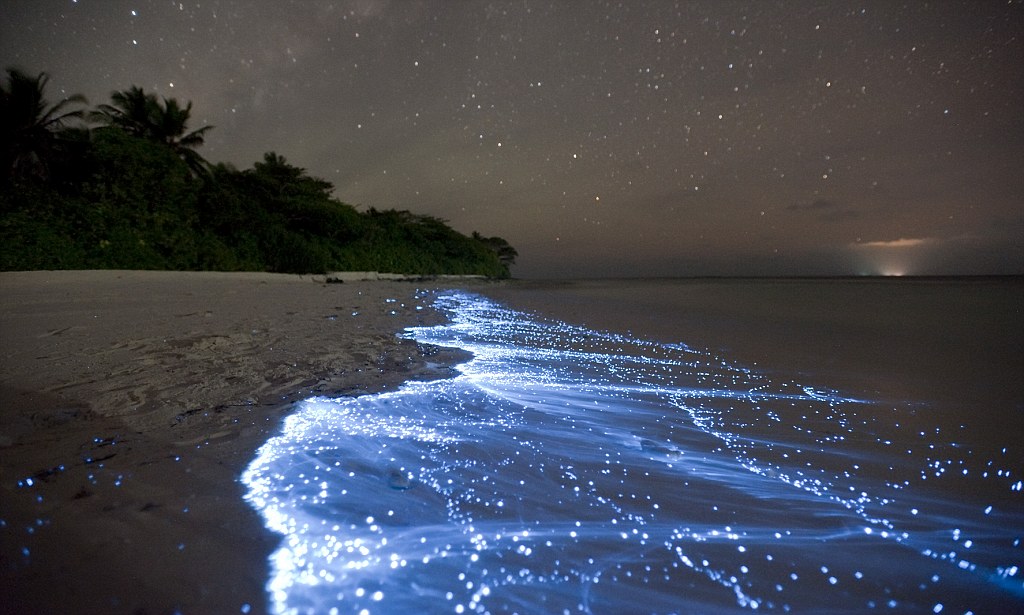 You can also search for the blue tear during midnight (after 11 pm) at along the beach side. Although the chances are little, there's no harm so go ahead and try your luck! It's an relaxing thing to do after supper while you walk on the beach and listen to the ocean waves.
5. Visit Historical Dutch Fort
The Dutch who had occupied Malacca, had even visited Pulau Pangkor 260 years ago to exploit tin trade. This fort is used to store the tin ore. In 1690 the Malays under Panglima Kulup destroyed the warehouse as they opposed Dutch attempts to secure a monopoly in tin ore trading. You can walk to this Dutch fort from the Jetty (20 minutes on foot), or just hire a taxi to there.
6. Have a sumptuous seafood meal
There a wide choices of restaurant to choose from to enjoy the seafood. Usually the fresh crabs and fishes are displayed outside of the restaurant, and if you happen to visit after 8 pm, it's hard to get a seat as most restaurants are full house, it's advisable to go at about 7pm.
Looking for Island Tours in Malaysia? H.I.S. Travel Malaysia offers a variety of tours packages in Malaysia that you can join!
Latest posts by Jhuang Hung Chong
(see all)
Related posts
Subscribe
* You will receive the latest news and updates on your favorite celebrities!
10 Basic Diving Hand Signals – Diving Survival
Communication is a form of interaction involved in our daily life. It helps us to better understand each other. That…
3 Netflix Japan Travel Documentary & Film – Save it for this MCO
Pasti ada yang merindui ingin kembali semula ke Jepun untuk merasa keindahan panorama Sapporo , ingin 'immerse' dengan kebudayaan moden…