Transportation Passes in Kagoshima
Yuh Jing Ee, 1 year ago
0
3 min

read
175
For every week since May, we have been updating information on Kagoshima travel to our blog as well as on our Facebook page. You know some of the best places in Kagoshima City and even for the nature side of Kagoshima, and even unique places such as Yakushima, some special spots of Kirishima, and even to Amami Oshima. We also shared some transportation modes from Kagoshima that you can refer to! 
So now, we wanted to let you know something important: the passes!
There are many passes when it comes to traveling to Japan, and they can get a little overwhelming, so here are the few kinds of passes that we'd love to share some information with you!
JR Kyushu Rail Pass
You've heard of JR Pass, especially the 7-day,  14-day and 21-day Nationwide version.
Now, you don't have to pay so much if you are only visiting Kyushu! There's a cheaper version of the JR Pass that covers either the entire Kyushu, Northern Kyushu, or Southern Kyushu – so depending on which airport you're flying in to visit Kagoshima, you can choose a different type of JR Kyushu Rail Pass!
It's a 3~5 days (all Kyushu rail pass got a 7-day version now too!) free-pass style ticket allowing you to ride any train operated by JR Kyushu. You can ride the JR Kyushu shinkansen, limited expresses, local trains, and rapid trains. And yes, that also includes the beautiful Ibusuki no Tamatebako! 
SUNQ Pass
Also an economic pass, SUNQ Pass is a free pass ticket providing unlimited rides on highway buses, most local buses, and some ferries in Kyushu and around Shimonoseki (in Yamaguchi) for 3 or 4 consecutive days. 
Although this pass doesn't allow you to travel on any trains, including the JR trains, it has about 2,400 routes that you can ride! So if you are traveling for long distances and have no problems with bus rides, consider this pass!
Sakurajima Island View One-day Pass
Of course, who will even forget about Sakurajima when it comes to visiting Kagoshima? Not sure where to look when you're at Sakurajima? Then consider this one day free-pass ticket providing unlimited rides via the loop bus on Sakurajima! The loop bus will take you around various Sakurajima tourist spots, so you get to enjoy different scenery here!
One-day city tram/bus pass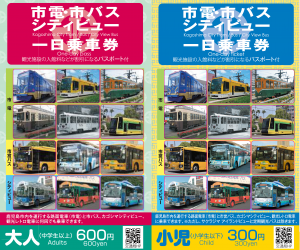 The One-day city tram/bus pass allows unlimited rides on the city tram (including sightseeing retro trains), city bus and Kagoshima city view bus in Kagoshima City! Usually as tourists we will purchase the conventional paper version, but right now in Kagoshima, they also sell one-day tickets via smartphone app! 
Kagoshima CUTE Pass
As cute as this pass sounds, it is a combination of the "One-day city tram/bus pass" and the "Sakurajima Island View One-day Pass". If you plan to visit Sakurajima from Kagoshima City whether as a day trip or an overnight trip, then spending your evening back in the city of Kagoshima, then this is a suitable pass for you, as this also includes unlimited rides on the Sakurajima Ferry and city buses on Sakurajima too!
They also have a 1-day or 2-day pass, so if you want a night view of Sakurajima from the Sakurajima ferry that runs 24 hours, consider a night there! Not to mention, you can also get discount fares for certain tourist spots via the Kagoshima CUTE Pass too! Kill multiple birds in a stone, I'd say!
Machimeguri Bus Pass
Run by Iwasaki Corporation, Machimeguri Bus travels in Kagoshima city on a smaller scale. With only 500 yen for a 1-day pass from the Tourist Information Counter in Kagoshima-Chuo Station (East Exit), there are 18 stops that you can visit using the Machimeguri Bus Pass! A single loop of the bus will take 60 minutes, where the buses are available for every 20 minutes from 8AM to 6PM. If you are planning for a full day sightseeing within the city's tourist spots, this pass can be very helpful!
The team calls me YJ. I travel solo and my dream is to travel to all 47 prefectures across Japan. Somehow, whenever I'm in Japan, there will always be someone asking me for directions in Japanese. I always enjoy scenic train rides, local delicacies and minigames.
Latest posts by Yuh Jing Ee
(see all)
Related posts
Subscribe
* You will receive the latest news and updates on your favorite celebrities!
10 Basic Diving Hand Signals – Diving Survival
Communication is a form of interaction involved in our daily life. It helps us to better understand each other. That…
3 Netflix Japan Travel Documentary & Film – Save it for this MCO
Pasti ada yang merindui ingin kembali semula ke Jepun untuk merasa keindahan panorama Sapporo , ingin 'immerse' dengan kebudayaan moden…