What to See in Kirishima
Yuh Jing Ee, 1 year ago
0
5 min

read
166
Being a part of Kagoshima, it is no surprise that Kirishima too, lies in an active volcanic mountain range right between Miyazaki and Kagoshima Prefectures.
Blessed with its majestic volcanic mountain range, Kirishima is blessed with enjoyable hot springs that offers great views of nature while rejuvenating your bodies.
Kirishima, in Japanese, if translated literally, it means 'Foggy Island'. Connecting to Japanese mythologies, there are also many beautiful shrines here, such as Kirishima-Jingu Shrine and Kagoshima-Jingu Shrine.
Let's look at a list of places that we can visit in Kirishima of Kagoshima Prefecture!
1. Kirishima Onsen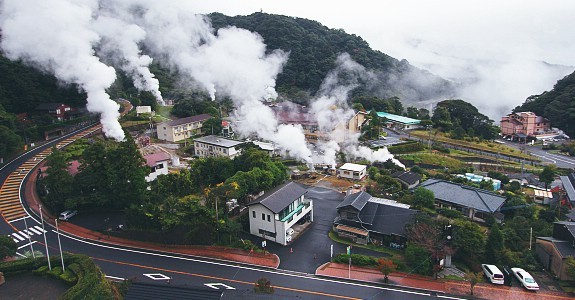 Located on the lower slopes of the Kirishima mountains, Kirishima Onsen is a famous spot not just because it offers a distant view over Kagoshima Bay and Sakurajima, but it also has one of the leading hot spring resorts in Japan for their sulfuric hot spring waters that are high quality.
There are multiple onsen in Kirishima, and Maruo Onsen is the largest among them with many accommodation options available. As visitors, consider staying overnight or visit a public bath, the day-baths are typically 500-1000 yen. If you're interested to stay overnight, we recommend Kirishima Hotel or Shinyu Onsen – Shinmoeso if you are interested to stay a night here in Kirishima.
To visit Kirishima onsen, there are buses departing from Kagoshima Airport that takes about 35 minutes, and buses from Kagoshima City will take about 90 minutes. You can also visit there via train from Kagoshima Chuo Station, and make a transfer at Hayato Station, which will take about 80 minutes until you arrive Kirishima Onsen Station.
2. Ebino Kogen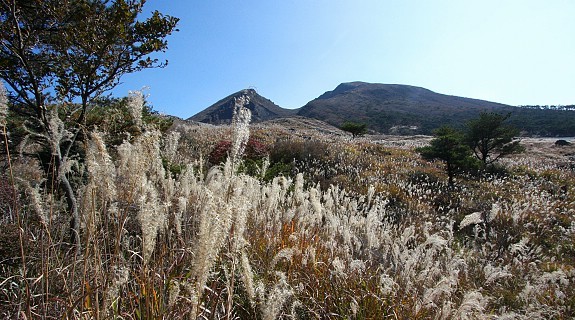 Ebino Kogen literally translates to "shrimp highlands", as the pampas grass on its grounds will turn pinkish in late summer due to the iron from the soils, it will look like as if it is full of shrimps. Surrounded by beautiful landscapes, mountains and popular hiking trails, Ebino Kogen of Kagoshima's Kirishima attracts a lot of visitors despite being a small town.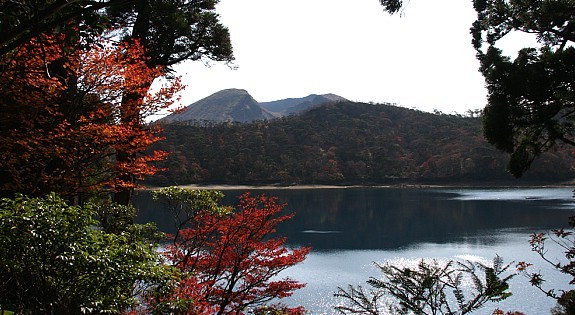 When it comes to Ebino Kogen, it is a place for hiking enthusiasts. Typical hikes will start from their visitor center, heading to Rokkannonmi Pond and back to the center in about two (2) hours. The trail is easy, and breathtakingly beautiful with good views of the surrounding landscapes. If you wanted a detour, consider detouring about 30 minutes after hiking to head to Byakushi Pond, where the detour will take you about one hour until your arrival of Byakushi Pond.
As public transportation is rather infrequent, there are only two (2) to three (3) buses per day run between Maruo Onsen and Ebino Kogen (30 minutes, 430 yen one way). As such, we recommend to visit Ebino Kogen by rental car.
3. Kirishima Shrine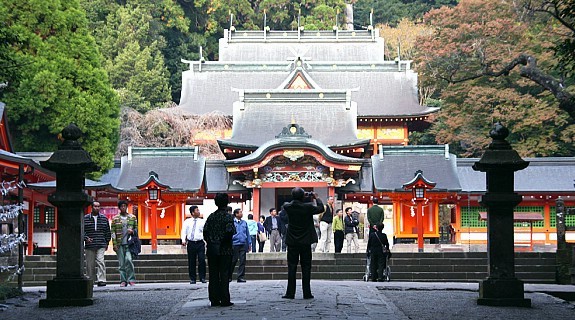 Kirishima plays a major role in the Japanese mythologies, so it is a place that one should never miss when it comes to visiting Kirishima of Kagoshima Prefecture. It was in this area that the god Ninigi no Mikoto, grandson of the sun goddess Amaterasu, is said to have descended from heaven to rule over the earth.
Ninigi no Mikoto landed near Mt. Takachiho-no-mine with three imperial regalia: the sword, the mirror and the gem – which are the symbols of the Japanese imperial family. Eventually, he married a local princess, becoming mortal in the process, and established the lineage of Japanese Emperors.
Despite being named after Kirishima Shrine ("Kirishima Jingu"), JR Kirishima Jingu Station is located more than five kilometers away from the shrine. Buses operate from the station to the shrine, which will take about 15 minutes at 260 yen, with frequency of about one bus in every 1 or 2 hours that also continues to Maruo Onsen (taking 30 minutes and the fare is 490 yen).
4. Mt. Takachiho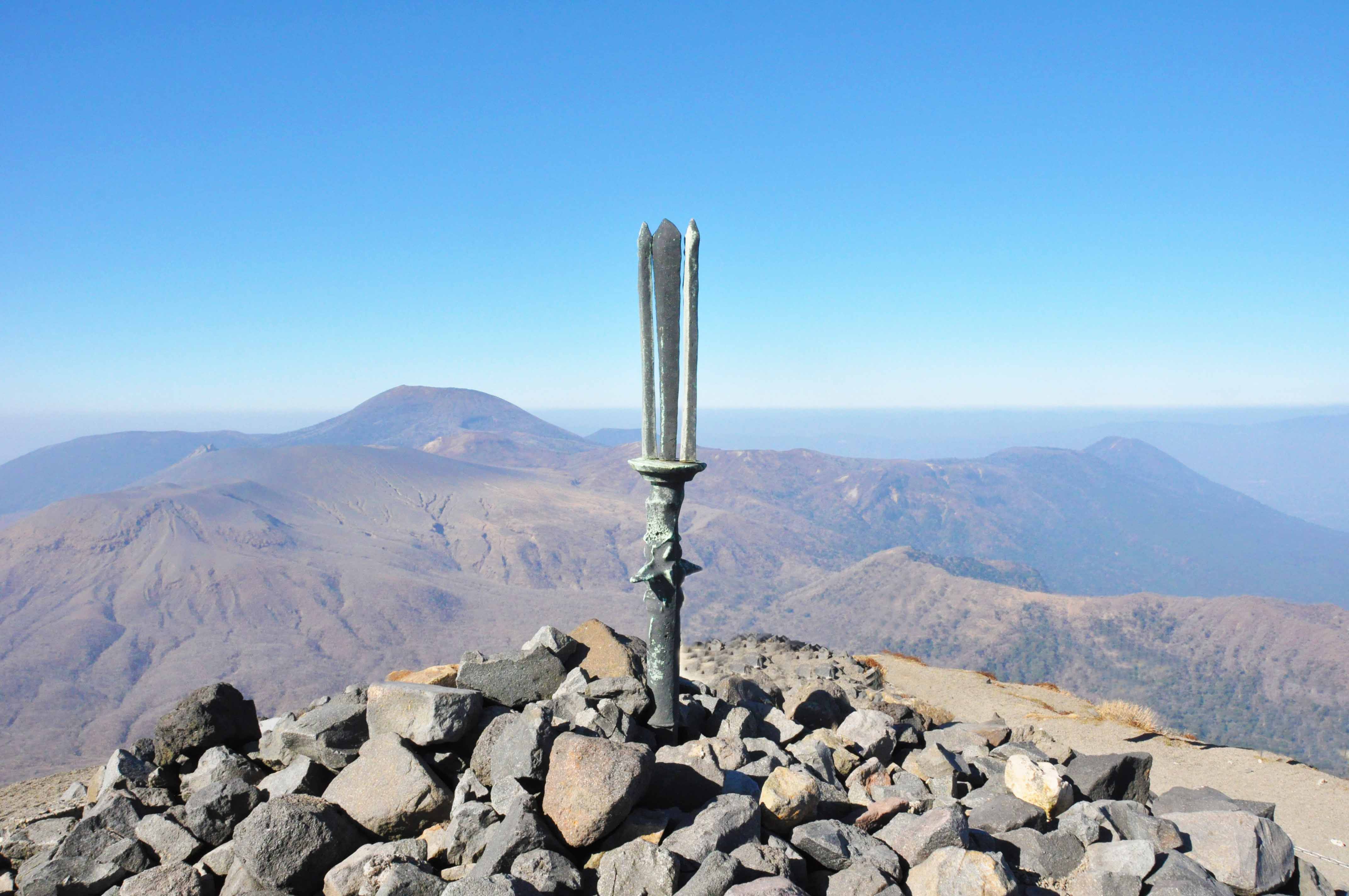 Besides the mythologies surrounding here, the landscape that these mountains here in Kirishima are fascinating. If you like to hike, this place can also be considered into your plans. Generally, hiking is recommended between spring and autumn, as there are some trails that will not be open during winter.
Like Ebino Kogen, there are many hiking trails that surrounds the mountains, starting from the visitor center here. Either trail will give you spectacular views and making it a memorable trip.
Public transportation to and from the various trails are rather infrequent and inconvenient. Considering this, it is recommended to get a rental car for traveling around Kirishima. If you do plan to come here by public transport, you will need to take note of the bus timing, as the buses are not operating 24/7 so be careful!
5. Kirishima Open Air Museum
Located 700m above sea level and right at the base of Mt. Kirishima, the Kirishima Open Air Museum, or Kirishima Art Forest in Japanese, can be a great place for photography lovers!
It has an indoor gallery with rotating exhibitions, but the museum's main attraction is the permanent outdoor collection – all of which was custom made by artists specifically for the museum with the intention of blending in with the surrounding terrain and nature.
Besides being a great photography spot, it is also family-friendly, especially when some of their pieces are interactive! You can climb on the pieces and there are many places for your children to run around and enjoy all they want.
We have listed some of the great places to visit in Kirishima of Kagoshima, but there are definitely more to explore!
In any season, Kirishima is scenic with many of the gifts from nature. Be sure to visit Kirishima in Kagoshima Prefecture at least once! 
Let's visit Kagoshima! 
Advertisement
The team calls me YJ. I travel solo and my dream is to travel to all 47 prefectures across Japan. Somehow, whenever I'm in Japan, there will always be someone asking me for directions in Japanese. I always enjoy scenic train rides, local delicacies and minigames.
Latest posts by Yuh Jing Ee
(see all)
Related posts
Subscribe
* You will receive the latest news and updates on your favorite celebrities!
10 Basic Diving Hand Signals – Diving Survival
Communication is a form of interaction involved in our daily life. It helps us to better understand each other. That…
3 Netflix Japan Travel Documentary & Film – Save it for this MCO
Pasti ada yang merindui ingin kembali semula ke Jepun untuk merasa keindahan panorama Sapporo , ingin 'immerse' dengan kebudayaan moden…