As a part of Kagoshima Prefecture of Kyushu, Japan, reachable by flights or ferries, Yakushima is a subtropical island covered by an extensive cedar forest that contains some of Japan's oldest living trees called the yakusugi, which is a word formed by the combination of Yakushima and sugi, the Japanese word for cedar. It is said that the oldest tree may be over 7000 years old!
Although the island's forests were extensively logged in the past eras, the forests have now well recovered from past logging, and is now a national park, and some areas were declared a Natural World Heritage Site in 1993. 
So, why did tourists come here for?
Being titled as the place that inspired the famous Studio Ghibli movie Princess Mononoke, it is no doubt that most tourists come to the island to hike through the forests and see the ancient cedar trees.
Being a subtropical island with nearly 2000 meter high mountains, Yakushima attracts a lot of rainfall around the year as it at least a bit of rain on almost a daily basis, especially in the mountainous interior. During winter, the higher grounds will have precipitation falls as snow.
Yakushima too, offers beautiful beaches in their coastal areas, and relaxing hot springs for a complete retreat into the nature. If you are interested to visit this beautiful island, read on to find some great places to see!
Jomonsugi – A 2000 to 7200 year old cedar tree
Being the main attraction of Yakushima Island, Jomonsugi is no doubt one of the biggest attractions of Yakushima. This giant cedar tree which scientists estimate to be 2000 to 7200 years old, hence it is said to be the oldest tree in Japan. In terms of height, it is not very tall (only around 25 meters tall) but it has a massive trunk with a diameter of about 5 meters.
The Jomonsugi was probably first discovered hundreds of years ago by Edo Period loggers, and, like the other ancient cedars of Yakushima, it escaped logging due to its irregular shape. It was rediscovered in the 1960s and has since been protected along with the rest of Yakushima's forests when they became a national park.
Shiratani Unsuikyo – Inspiration for the film Princess Mononoke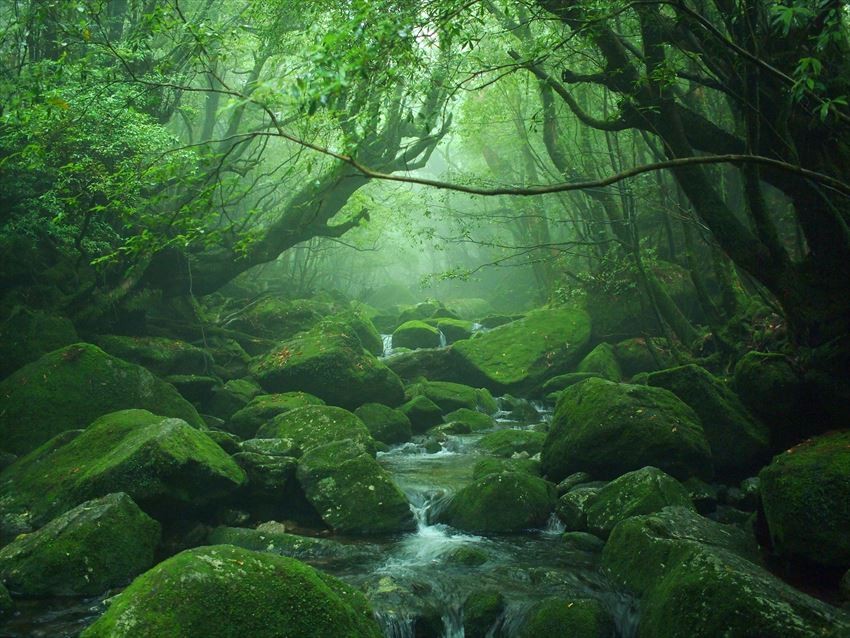 Hikers and nature lovers would absolutely love the Shiratani Unsuikyo Ravine on Yakushima. This lush, green nature park containing a great number of the island's famous ancient cedars, and the best part? Not much strenuous hiking needed – making it a popular destination to see the forests.
The park offers a network of well maintained hiking trails that run along the ravine. Depending on the routes, the routes can be from one to five hours long, and for those with higher amounts of stamina, you could join a guided camping and hiking tour for the challenging trails. Of course, you are free to wander around at your own pace and choose your own route among the paths, as English signs are provided throughout.
Hirauchi Kaichu Onsen – One of the Mixed-gender Onsens in Japan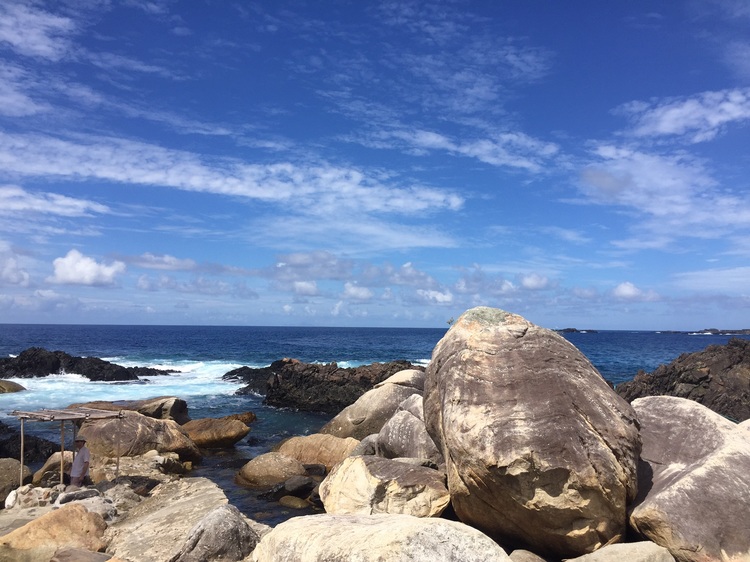 Though Yakushima is not a volcanic island, it is blessed with several natural hot springs, or onsen in Japanese. There are many onsens by the sea, and this one is only accessible when the tide is low.  You may be lucky enough to get the onsen and sea view all to yourself, or you could find yourself sharing it with elderly locals and other tourists.
Hirauchi Kaichu Onsen, though initially was not made as a tourist attraction, it with the ocean rock formations and beautiful views, it has became increasingly famous as a tourist spot. 
What makes it even more special is that, although there is a sign that explicitly states "no swimsuits allowed", this is a mixed onsen! So, don't be surprised if you see someone joining you nude. Though, if you are on the shy side, you can always use a clean towel or a sarong here.  This particular onsen is all about experiencing an abundance of Japan's natural treasures. The view at sunset — or even in the moonlight — will leave you fully relaxed and refreshed.
Access
There are generally two ways to reach Yakushima:
You can fly domestically to Yakushima Airport (KUM) via Japan Airlines from Fukuoka Airport (FUK), Kagoshima Airport (KOJ), or Itami Airport (ITM); or
Board a ferry (Toppy or Hibiscus) from Kagoshima. You can book the tickets from our agents in H.I.S. Travel Malaysia!
And a few ways to get around Yakushima
Public transport: Buses are available to go around popular spots of Yakushima. However, the bus schedule is not frequent so you will need to watch your time properly or otherwise you might need a much-more costlier taxi ride; or
Car rental: By far the most convenient method as you get the freedom to your own schedule – where you can also arrange your rental from H.I.S. Travel Malaysia provided you have an International Driving Permit (IDP).
Precautions for Hikers
If you are planning to hike, especially to the Jomonsugi, there are a few tips that we would love to share!
Before hiking, you are required to fill out a climber's declaration and insert in a box before your hiking trail starts, so it will help the search team in case if accident happens.
Depending on the route taken, there may be old rail roads tracks and bridges. Some of the bridges do not have barriers on the sides, and due to the humidity and rain in Yakushima, they tend to get slippery. Shoes with a strong grip is highly recommended.
Resting points are easy to find! There are toilets at the resting points but there aren't any in between, so it is recommended to bring some "waste storage bags" with you! There are also spring water sources here.
Usually, if you climb at a faster pace, climbers in front tend to find a safe spot where you can pass them. Likewise, if you are at a slower pace, do let others pass when it is safe.
It is also not uncommon for climbers to greet each other with a Konnichiwa! or Ganbatte!
Sometimes, you get to see wild animals along the trail such as deers or monkeys. You can take photos (without flash is recommended) but don't touch them.
Hope the above helps! We look forward to seeing you in Yakushima!
For customized trips, contact us through our webpage! 
The team calls me YJ. I travel solo and my dream is to travel to all 47 prefectures across Japan. Somehow, whenever I'm in Japan, there will always be someone asking me for directions in Japanese. I always enjoy scenic train rides, local delicacies and minigames.
Latest posts by Yuh Jing Ee
(see all)
Related posts
Subscribe
* You will receive the latest news and updates on your favorite celebrities!
10 Basic Diving Hand Signals – Diving Survival
Communication is a form of interaction involved in our daily life. It helps us to better understand each other. That…
3 Netflix Japan Travel Documentary & Film – Save it for this MCO
Pasti ada yang merindui ingin kembali semula ke Jepun untuk merasa keindahan panorama Sapporo , ingin 'immerse' dengan kebudayaan moden…